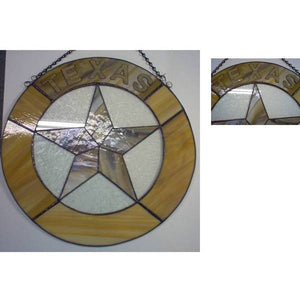 Fullertons Panes
Texas Round Star Panel
Regular price
$3.00
$0.00
Unit price
per
Another creation from FullertonsPanes Studios

This is a Texas Star stained glass panel with TEXAS tacked fused onto the top border. This fusing is done in our studio kilns at a rate of 1365* The panel is made of two different shades of Browns. The border pieces with the exception of the one with Texas are of light sandy beige. The center Star and the Texas border piece is of a striking marble browns/white. The background glass is a clear glue chip!

The panel is 19 inches in diameter. Has a black chain that matches its solder seams of black.

This is truly a beautiful piece. As usual, the workmanship/quality is of the highest!
You will not be disappointed!

We also can custom order these with your family name or address. 5 letters/numbers are included in the price. Additional characters are $3.00 each. If you wish to order one of these custom orders email us what you need it to say at Fullertonspanes@aol.com. If more than 5 characters, please select the amount of additional characters in the option given.
Size 19'' Diameter
---